Looking for wall decals that will work on textured walls? You've come to the right place. At Trading Phrases we've sold over 30,000 decals, so we know a thing or two about how they'll work on many popular textured surfaces. We offer free samples to test out your surface, and have a money back guarantee if your decals don't work on your walls. Read our handy article about using decals on various textured surfaces. Here are the most popular textures in home building today and how they stack up with decals: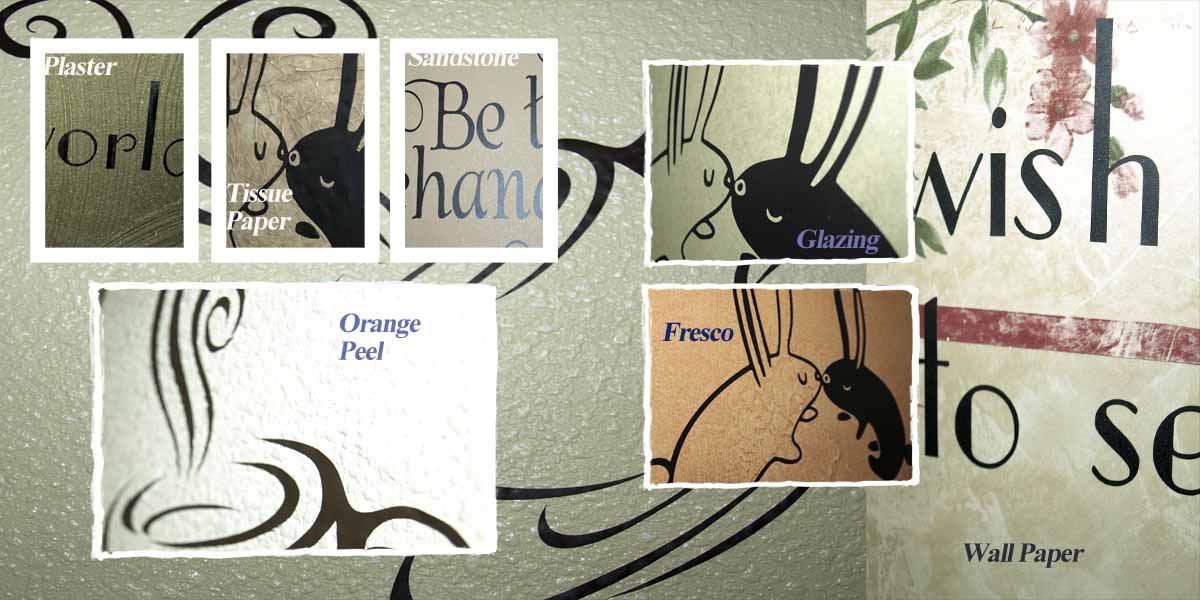 Orange Peel: It is found anywhere a building boom occurred in the past 2 decades. This typical drywaller's friend can be used with decals. Just use a bit of elbow grease to make sure you've gotten the decal into the crevices.
Venetian Plaster: If you like the old world look, you may have this finish on one of your walls. The deeper the finish, the more work it will take to get into the hand trowled crevices. It will work with decals, but may lose the hand painted look up close. Use the installation tool to really work the design into the grooves.
Sandstone: Add sand to a can of paint and voila, you have a sandstone finish. What you also have is a porous surface that makes a decal a bit tougher to adhere. Once it is in place, however, it looks beautiful on the relatively smooth surface.
Tissue Paper: Some tissue and even wallpaper effects are heavy on the texture. Some are not. If you've got a heavier texture, it will take a little more work to get the decal in to the crevices. If you have the smooth version, well life is good!
Textured Fresco: This is a relatively smooth texture, and it works really well with wall decals. The minimal texture shows through the solid pieces of the design, making the decal look like it has been painted on the surface better than some other textures.
Glazing: This dramatic finish adds very little overall texture to the wall. This means it works really well with wall decals. The matte finish decal goes really well against the glazing and looks hand painted. Decals are a great compliment to your hard work on the glazing effect.
Need information about decals?
Visit our Help Center where you can find what you're looking for.

Are you ready to shop? This will take you to our main page where you can browse through over 4,000 designs. Feeling lucky? Search for what you're looking for instead.

We are only as good as our customers say we are. Check out our customer reviews, or visit us on Facebook where you can get the low-down from over 25,000 fans and customers.

Popular Links:

Popular Categories:

...I can't believe how fast they arrived...

...hand-painted look without the work and hassle!...

...I love the compliments I get from everyone who sees my wall decals!...

...they made the room, and I saved money doing it!...

We have even more comments on our informative blogs and articles sections!