Wall You Need is Love!
Choose from over 4,000 designs and 64 beautiful matte colors!
Top Selling Categories:
Latest Ideas & News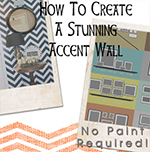 5 Ways to Create An Accent Wall- No Paint Required!
Category:
Blogs
Posted:
04-22-2014 09:59 AM
Views:
283
Comments:
0
So you love the look of accent walls in homes, but you don't want to have to get out the fumes and move all the furniture to get one, yeah? We've come up with 5 great ideas that don't require a drop cloth...